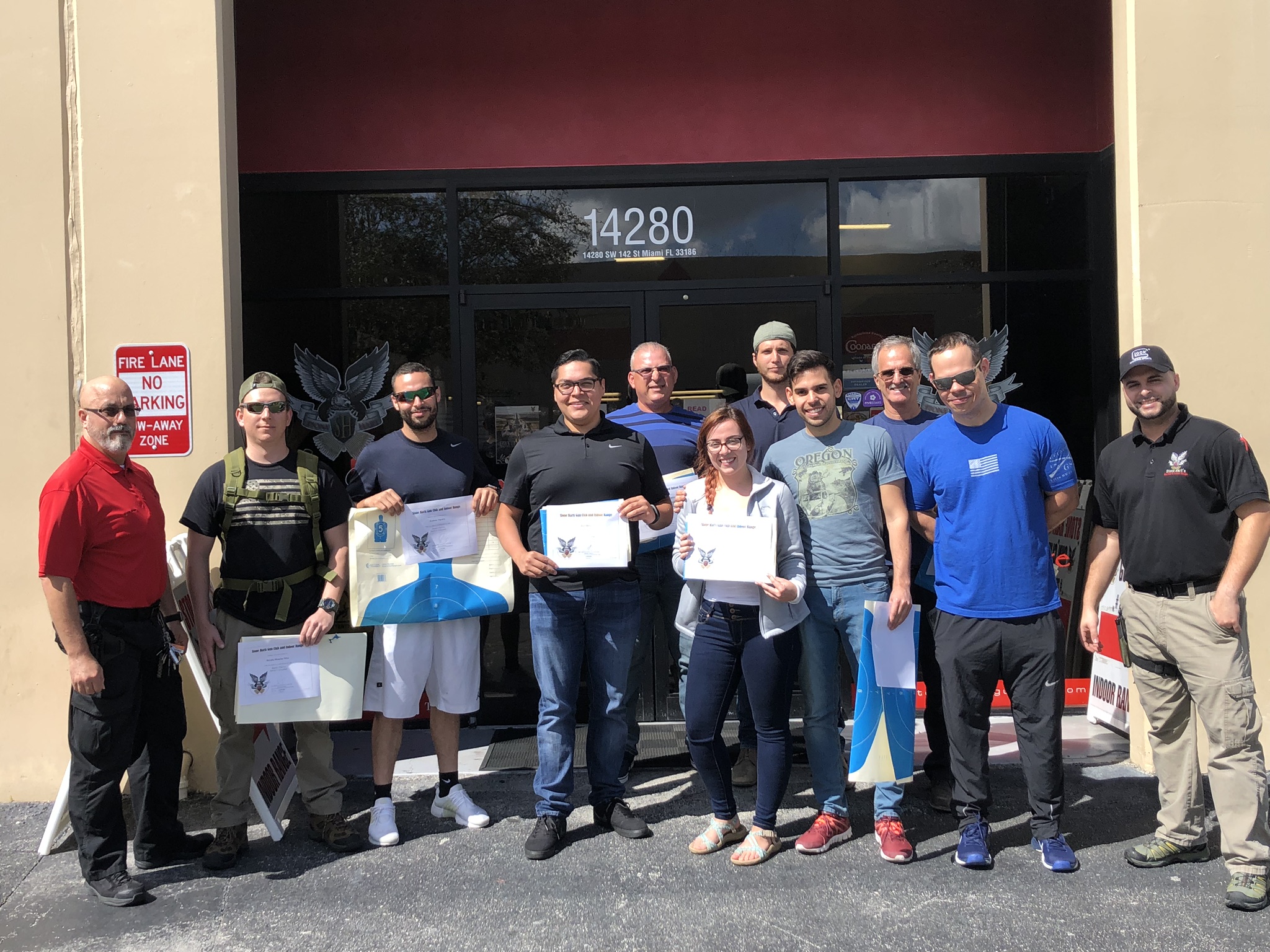 Concealed Weapon Classes and Firearms Training in Miami
Stone Hart's Gun Club & Indoor Range hosts a variety of instructional classes specializing in gun safety, firearm handling, defensive shooting and concealed weapon classes (CWP / CCW), for Florida and non-Florida residents. We celebrate our Second Amendment right to bear arms and, at the same time, acknowledge the need for firearm training in the areas of gun safety, firearm handling, maintenance and cleaning. Our firearm training classes are available in both English and Spanish. Our expert and friendly experience instructors would like to make you a better and safer gun owner. For more information from the State of Florida on applying for or renewing a Concealed Weapon License, or to see the State of Florida Statutes on the subject, see this link. Current Classes Include:
Concealed Carry Pistol Course (Group Course)
Cost: $100 per person
This is a comprehensive class for anyone considering owning or carrying a firearm for self defense. The class is approximately three hours long and includes time in our classroom as well as our live fire range. In this class you will learn shooting fundamentals, conflict avoidance, situational awareness; handgun basics, the physiology of violent encounters, legal aspects of using deadly force (including knowing what to do in the aftermath), and a complete guide on gear, gadgets, and ongoing training.
This course advances the mindset for the responsible defensive firearms. A Course Completion Certificate will be awarded to all participants who successfully complete the course to obtain your FL Concealed Weapon License.
Click on the BOOK NOW button (found on the top of this page) to see the next class dates and reserve a space.
Concealed Carry Pistol Course (Private Course)
Cost: $125 per person
If the scheduled dates do not work for you, we offer this concealed course in a private setting. The course covers the Basic Principles of Gun Safety, Gun Handling, the Fundamentals of Shooting, and Concealed Weapon Laws, Rules and Regulations. The class involves both classroom and practical session inside the range (Range time, ear/eye protection, included in price of the course), where you will have one-on-one instruction with our Certified Instructor. Also available in Spanish.
By Appointment ONLY. Book online with our Instructor Adriano or Noel. Or you can call us at 305-255-4884 to make your reservation.  If you have any questions please email us at acaceres@stonehartsgunclub.com
Defensive Handgun I
Cost: $125 per person (plus ammunition)
This new class teaches basic knowledge and fundamentals of defensive handgun use, including the proper mindset to mediate a threat. The student will learn proper movement with the firearm drawn and pointed down range/threat. Proper holstering and drawing of the firearm will be addressed.
Course Requirements: Inside/Outside the waistband holster, magazine holder, 250 rounds of ammunition.
10% OFF on ammunition purchases on the day of the course, or you may bring your own ammunition.
Any questions, please call us at 305-255-4884 and ask for Noel or Adriano.
Click on the Classes and Packages button (found on the top of this page) to see the next class dates and reserve a space.
Introduction to Shooting
Cost: $100 per person
Are you looking to purchase a new pistol? Maybe a Rifle? How about a Shotgun? Do you have one already but would you like to learn about how to safely use, store, and clean any of these firearms? If you already own a semi-automatic pistol, revolver, rifle or shotgun and want to learn more about your gun, or want to purchase one and you want basic training on it, then the Introduction to Shooting course is right for you!
This one-on-one course (couples welcome) is a thorough introduction to proper usage and handling. It includes both Classroom time and Range time. Each student will complete live-fire exercises at the range after the classroom portion is complete.
The class is designed to provide a hands-on introduction to the safe handling and proper orientation to one specific action type such as Striker fired pistols (Glock, M & P and XD's), Revolvers, and Single-action pistols like 1911's. Also, bolt action and/or semi-automatic rifles, pump or semi automatic shotguns. Students will learn about the NRA's rules for safe gun handling; the particular model parts and operation; ammunition; shooting fundamentals; cleaning the firearm; and continued opportunities for skill development.
This class is offered by APPOINTMENT ONLY. Call us and we will schedule your class.
Women on Target
Cost: $85 per person
If you're a woman and curious about firearms, whether for personal defense or to learn a new sport, Women on Target is the perfect place to start.  These instructional shooting clinics are designed to teach you firearm safety and the fundamentals of marksmanship, giving you the confidence you need to safely handle and operate a firearm upon completion.
Women on Target clinics are available only to women – it's a safe and friendly environment whether you're picking up a gun for the very first time or are just brushing off some of the dust and need a little refresher.   You will immediately feel at ease in the half day clinics, and will be provided with a hands-on, one-of-a-kind experience.  No previous firearms experience or equipment is necessary to participate.
Click on the BOOK NOW button above to see upcoming scheduled clinics and reserve your space.
Marksmanship I
Cost: $125 per person
This course is designed for men and women to learn techniques to hone their skills and perfect their shooting and accuracy. It includes both classroom and range time training. The class covers shooting stance, grip, sight alignment, trigger control and other techniques that will allow the student to get better results.
This class is currently offered by appointment only. Call us to schedule your class
Basic Gun Safety Class – FREE – GRATIS
Stone Hart's Gun Club and Indoor Range, in its commitment to promote Firearm Safety among our community, is conducting FREE Basic Safety Classes every month with one of our NRA Certified instructors. The 30 minute Safety Class is a non-shooting course that will teach its students the NRA's three rules for safe gun handling as well as the basic knowledge, skills, and attitude necessary for the safe handling and storage of firearms and ammunition in the home. Clase Gratis de Manejo de Armas
Next Scheduled Class: To Be Announced